Partner API: Promote millions of Fotolia images to your visitors
Integrate our search, direct customers to Fotolia.com to download images, and earn revenue.
Maximize the value of your website traffic or application by adding a complementary service for your users - and thanks to our Affiliation Program, you'll earn money on all purchases by your affiliates in their first 12 months.
We manage all the payments, so it's a simple and elegant way to work with Fotolia APIs and generate revenue.
How does it work?
After applying for a key and qualifying your needs, our team will send you an API key, allowing you to embed Fotolia features into your business.
You can embed a search field into your website, display search results and deliver the customized pages your customers demand. Your customers will appreciate the seamless integration and convenience of searching for Fotolia images from your website. Additional information is also available through the API, including author, similar images, categories, and much more.

Samples
Case study: www.oskope.com
oSkope is a visual search assistant that lets you browse and organize items from Amazon, eBay, Flickr, Fotolia, Yahoo! Image Search and YouTube in an intuitive way.
oSkope allows members to search Fotolia images 2 different ways – first, through categories and sub-categories thanks to an interactive dropbox, and also through a search field. Stock photos are then displayed on the page according to the number of images requested.
A click on a picture gives more information about the photograph (title, keywords, author …) and another click forwards the visitor to the page on Fotolia.com where the customer can download it.
Thanks to the tracking embedded into the Partner API, the visitor is automatically flagged as oSkope's affiliate. Once that new affiliate is registered on Fotolia, they receive a commission on all affiliate purchases made during the next 12 months.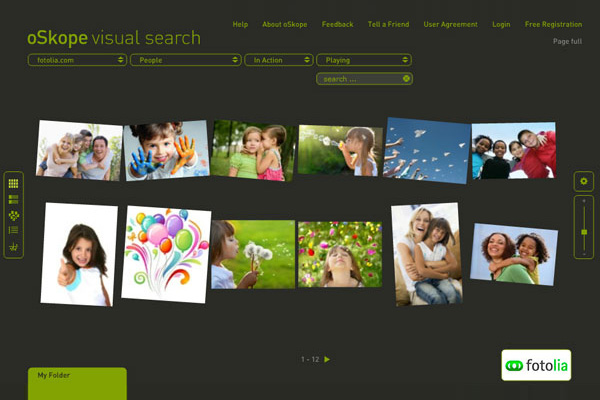 1. Search for images and display the results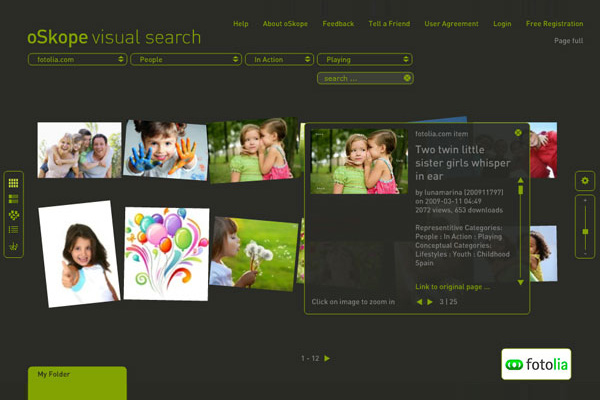 2. Information about an image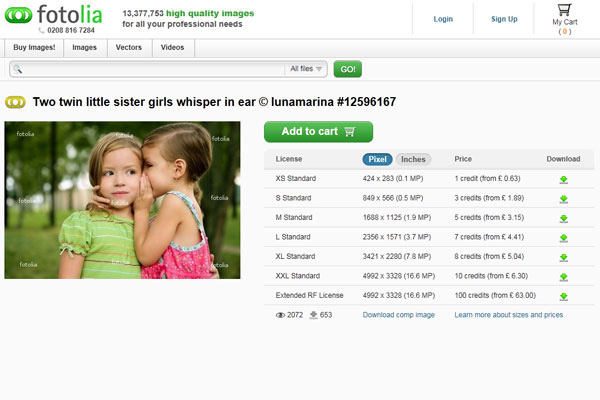 3. Size/license selection and image download from Fotolia
Case study: Corel CONNECT
Corel® CONNECT™ is a full screen browser that synchronizes with CorelDRAW and Corel PHOTO-PAINT to help you find graphics, templates, fonts and images instantly on your computer, and search millions of images online via Fotolia.com.
Designers can search for content (from their folders or Fotolia.com) from the search bar on the top of their screens. Results appear on the main area, and a drag and drop interface allows them to add the selected content into a light box.
When a user wants to download or insert a stock photo in CorelDRAW, they are redirected to a page on Fotolia.com where they can use their credits to download it. These customers are now Corel's affiliates on Fotolia.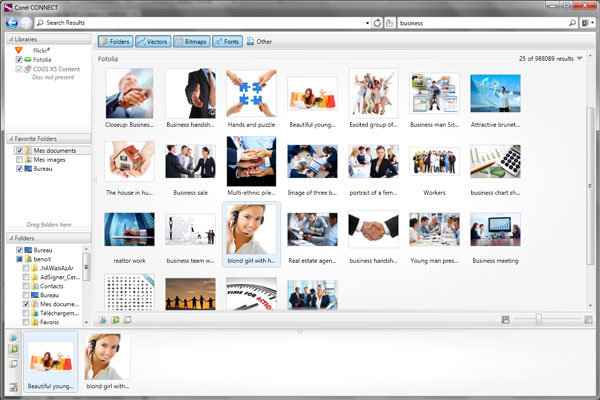 1. Images search and selection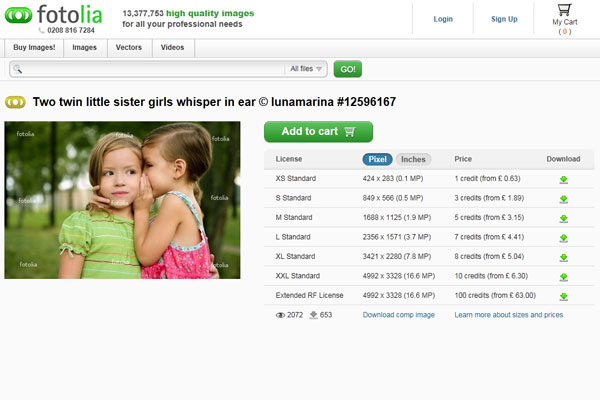 2. Size/License selection and image download from Fotolia
Additional examples: